SOE and the Poles In Hungary
Hungary's position throughout the war was complex and precarious ever since Laslo Bardossy saw an opportunity to regain lost territories by declaring war on the Soviet Union on June 26th, 1940. Geopolitically, Hungary was sandwiched between rival forces, cultures, and politics whose population had immense sympathy and support for the Poles. The political elite were largely anglophones and in the 1930s gravitated towards British and American support as the inevitability of war loomed. Dr. Antal Ullein-Reviczky was a diplomat and scholar who as a Hungarian nationalist and of anti-Nazi disposition, was also married to the daughter of a British diplomat and was a key adviser to Admiral Horthy. Ullein-Reviczky's role has largely been forgotten and was mistrusted due to his links with pro-German Hungary (Frank, 2015) and may go some way to explain the concentrated effort by the anglo-centric supporters and the initial focus on an armistice rather than a greater focus on sabotage and political warfare by SOE. A major shift in SOE's strategy occurred in the August-September of 1944 (Becker, 2017) that had significant changes in operations due to the advances of the Soviets and the threat of mass deportations of the Jews that needed a different strategy. It is within this scenario that the complexities of Hungary's position influenced the SOE's strategic planning albeit too late.
A network of Polish - Hungarian organizations provided routes for couriers working for ZWZ/AK (Bor-Komorowski, 1951) and later SOE/ British Intelligence (Ogden, 2010). The frequency of couriers crossing into Hungary maintained a vital link for the Poles to transfer information to the Budapest legation and an escape route for small groups to join the exiled Polish forces in France and the Middle East. These were often referred to as 'white couriers' due to their winter camouflage (Celt, 2013). The Hungarians also assisted in providing sanctuary for young Polish escapees in schools, link to Zenon Krzeptowski's page and later the removal of material from the weapons programmes from Peenemunde (Garlinski, 1978). Foot (1984) suggests SOE's work in Hungary was 'slight' and yet files recovered from the Public Records Office (The National Archive) and subsequent publications of books show a very different story where the focus of activity was to 'turn' Horthy against the Germans with much effort and resource focussed on this outcome by SIS. The strategy for any activity in Hungary evolved as a planning process based on changing strategic and political pressures which came late in terms of fomenting wide-spread insurrection or dealing with the mass deportation of Hungary's Jews.
II Bureau officers were evacuated to Romania at the outbreak of war and began operating in territories occupied by Russia and in the Balkans. R Station was set up in Bucharest prior to the HQ being moved to France and then Britain. In the autumn 1939 the AK Liaison Base No. 1 (Romek) was set up in Budapest (Przewoźnik, 2000) a communications link between occupied Poland and London, first by courier and then radio. 'Romek' mainly handled diversion and transfer of escaped or interned personnel to military units. Intelligence was handled by Captain Jan Billewicz 'Bliźewski through Station W and local networks of agents. By 24th April Polish diplomatic and military missions had to be evacuated and closed with agents in the networks going into deep cover. Staff at Romek and Station W were arrested by the Hungarian intelligence leaving a void until March 1941 with some dispatches handled through SIS and a need to open routes through Yugoslavia. It was through this network reports of a military build-up and imminent invasion of Russia came about. In 1942 Colonel Stanisław Rostworowski (Rola) commanded Romek and worked closer with SIS (Przewoźnik, 2000) and from 30th September Colonel T. Howie of SOE. The Polish II Bureau had set up a cell in Belgrade in March 1940 after the 'Romek' base in Budapest had been evacuated after the Hungarian Intelligence had arrested members of the cell (Przewoźnik, 2000). Belgrade was a natural choice since several courier and escape routes passed through Yugoslavia.
The final planned Polish-British operation was to have taken place in September 1944 when L/Corp. Zygmunt Pales (Szum) acted as a courier to the Polish Section and parachuted into Hungary to contact Base List (Przewoźnik, 2000) and assist in setting up communications with London. Szum would then set up a courier route between Budapest and Istanbul working with Base Capri. Penetration by Soviet intelligence forced the cancellation of the operation.
At the outbreak of war, Gubbins was faced with conflict of interests between SIS and MI(R) (Atkin, 2021) that led to a supply chain and route using Budapest's Freeport (Haynes, 2000) as a gateway to central European operations and ability to support Poland's need for weapons and supplies. The initial objective was to deprive the Germans of oil and petroleum through the acquisition of the Goeland tug fleet and chartering barges from the Anglo-Danubian Transport Company covering the Danube, Black Sea and Aegean Seas. The Romanian railway system at the outbreak of war was primitive (Haynes, 2000) forcing fuel shipments to Germany via the river Danube. Clandestine supplies were packed into wine, food, or furniture crates to avert suspicion as these were 'diplomatic baggage' (Atkin, 2021) and removed while in transit and the crates re-sealed with fake customs seals. The Poles requested pistols and subsequently 200 .445 Webley revolvers with 50 rounds of ammunition arrived within diplomatic bags via the Orient Express (Atkin, 2021). Unfortunately, the Poles complained that the consignment was inappropriate due to the weight of the revolvers and lack of ammunition whereas .32 or .38 automatics would be preferable. This incident highlighted to Gubbins that D Section's role was exceeding its boundaries and needed greater mutual co-operation with the Polish General Staff rather than involving peripheral political movements such as the Social Democratic and Trade Union groups (Atkin, 2021). The Poles agreed to undertake small acts of sabotage as resources were built up in 1940 and deflect any suspicion on the real objectives. During this period, conflicts of interest between Section D, MI(R), Gubbins and British Naval Intelligence through using the Goeland fleet, highlights the complexity and multiple 'circus-rings' within the operations and broad British strategic planning for Hungary that impacted upon SOE. Ultimately, this led to the recruitment and employment of Christine (nee Krystyna Skarbek) Gizycki.
SOE had not always planned well their operations in Hungary with the lack in developing ground support until late in the war. This factor had a significant impact on operations planning and the overall strategy whereas the SIS through their networks had more notable successes. The Hungarian section of SOE was shackled in terms of operations by the Foreign Office since it was in the Russian 'sphere of influence' often limiting activities by the Hungarian Section of SOE (known as MPH). It seems strategy and operational planning lacked the same thrust those other sections such as France, Norway or Poland attained due to what Foot (1990) described as a 'political fix' that few understood or the inability to act on intelligence initially collected by D Section (Mulley, 2012). This also is in part through Ormond Uren, head of MPH was a Soviet spy (Foot, 1990; West, 2019) and both SOE and OSS encountered Soviet hostility when attempting to mount any operations in Hungary or Slovakia. Foot (1990) identified Uren, a Captain in the Highland Light Infantry as a Soviet spy and suggested he gave little significant information to the Soviets since Douglas Springhall another Soviet mole known to Uren had been caught by MI5 and imprisoned. It appears unknown to many operating in Hungary that in 1940 Colonel Guiness had signed a co-operation and liaison agreement with the NKVD (Mackenzie, 2002) making Hungary the Soviet's sphere of influence that would have a massive impact on the closing stages of the war. It is this agreement that would limit the effectiveness of SOE operations within the 'circus-ring' of interested parties.
Into the void:
Budapest became a centre of intrigue after the outbreak of war with different 'agencies' representing the British, Jewish, German and Soviet interests with the Hungarian authorities often turning a 'blind eye' towards activities that did not directly irritate or provoke their German allies prior to Germany taking over the country on 12th March 1944 (Operation MARGARETHE). Under Admiral Miklos Horthy, Hungary was a political and economic German satellite that appeared initially neutral at the outbreak of war and attempted to minimise any contribution to the German war effort or subscribe to the 'final solution' for the Hungarian Jews. Miklos Horthy, other leading politicians and gentry were openly Anglophobes (Meszerics, 2008; Frank, 2015) and initially targeted by SIS and SOE. This multiple 'circus ring' of interests changed throughout the war as different 'players' and geopolitics of the region impacted on strategic planning and operations that increasingly focussed on Hungary leaving the Axis and declaring an armistice. It also emerged that there were marked differences between the OSS and SOE where SOE had two key strategies: subversion and the opportunity to gain some form of armistice (Meszerics, 2008; Becker, 2017) whereas OSS sought direct action. The entanglement with the Slovak Rising would add additional layers of complexity and divert attention and resources away from resourcing a string of operations and concentrate on the role of the Jewish Agency and the fielding of Jewish Paratroopers for rescue missions (Meszerics, 2008; Becker, 2017).
Christine (nee Krystyna Skarbek) Gizycki (later Granville on her passport and visas) had joined SIS through family and personal contacts almost at the outbreak of war and joined Department EH (prior joining SOE) that was attached to the F.O. It was tasked to provide counter-Nazi propaganda aimed at the occupied Poles (Mulley, 2012). Sent to Budapest three months after the invasion of Poland, the Poles and Hungarians had a long-established friendship that enabled Christine to masquerade as a journalist. Christine met the 'dashing' Andrez Kowerski-Kennedy (known as the Scarlet Pimpernel of Poland) who had set up an exfiltration organisation (based initially in the Metropole Hotel) with the help of Prince Marcin Lubomirski and his wife. They enabled interned and escaping servicemen and women to cross Czechoslovakia, Hungary and south into Yugoslavia (Ogden, 2010; Mulley, 2012). Christine was introduced to Janek Marusarz (former Olympic Skier) who worked for the exiled Polish Military Attache in Budapest who allowed her to accompany him on a trip to Zakopane over the Tatra mountains and through the Cicha Dolina on skis at the end of February 1940 (Mulley, 2012), a route that had been used for centuries by traders and the Goralé to smuggle goods into Poland. As a British agent, the ZWZ were cautious, however contact with the independent Musketeers created and led by Stefan Witowski was controversial since their unit and activities were not approved by the AK (Mulley, 2012; Fairweather, 2019; Atkin, 2021). They mainly operated within the Soviet Sector with some 800 members and another 200 in Germany (Mulley, 2012). Section D was run through the British Legation in Buda with the full knowledge of the ambassador Sir Owen O'Malley. The regularity of visits was observed and eventually led to Christine's and Andrez's arrest on 24th January 1941 by the Hungarian military police and interrogated by the Gestapo in the infamous Hadic prison. They escaped through a ruse of feigned tuberculosis infection. It is estimated that Andrez Kowerski – Kennedy was responsible for the escape of 5,000 internees in 1940 with Christine crossing the Polish border six times and the Slovak border eight (Mulley, 2012) carry in propaganda and radio crystals with outbound messages and intelligence reports for London. Christine's contacts with the Musketeers brought repercussions since General Sikorski decreed only those resistance groups owing allegiance to the government-in-exile would be supported by SOE and this led to her suspension (Mulley, 2012; Atkin, 2021).
Basil Davidson who had been acting as a journalist for the Economist and based in Budapest since 1940, compromised the British Legation's role when it was discovered he had stored explosives in the cellar for sabotaging vessels on the river Danube. Sir Owen O'Malley was incensed and had the explosives destroyed complaining the activities of D Section needed to be curbed and subsequently would impact upon activities of MI(R) and the Poles (Atkin, 2021). This misplaced action highlighted some of the planning and operational misconceptions facing MPH. Davidson's lack of Hungarian and in use of explosives, despite carrying them on a train from Yugoslavia to Budapest (Mulley, 2012) underlines the odd choice and degree of naivety for a leader in a complex operational area. To recover supplies to the Poles, it was suggested that the Goeland fleet would disguise arms within crates of 'machine parts' once the bust-up within the intelligence community consisting of Section D, MI(R) and the Foreign Office (Atkins, 2021) had been resolved. Ironically, with infighting destabilising relations forced Col. Jan Emisarski-Pindelli to suggest simply giving the Poles money who would free them to buy arms at a lower cost and halve the cost of courier services as a better result for all (Atkins, 2021).
Setting up networks and contacts over 1941 to 1942 was slow progress for Davidson. Under Davidson, some effort was spent on recruiting anglophiles in high society rather than developing a viable resistance (Becker, 2017) on the ground since the SIS and SOE were looking at 'peace feelers' to extract Hungary from the Axis or cause political disruption (Meszerics, 2008; Becker, 2017). In late 1942 a major setback occurred when the fledgling network was infiltrated. All agents were arrested (Ogden, 2010) destroying the entire network and all their efforts. Further attempts by SOE through Andrzej Kowerski-Kennedy sabotaged numerous barges on the Danube with some effect (Mulley, 2012). The collapse of the network resulted in a botched reorganisation with control shifting between Cairo and Istanbul and back from the spring of 1942 and early 1943 resulting in precious time lost in an important theatre of the war. In the meantime, Hitler had taken exception to Hungary's role within the Axis and the leadership by Admiral Miklós Horthy who was under increasing pressure to economically support Germany and hand over 100,000 Jews per month as part of the Nazi 'final solution'. Resistance by Horthy increased as it became more obvious the Axis would lose the war.
On 13/ 14 March 1943 SOE finally launched their first external Hungarian operation called PILATUS (Ogden, 2010; Grehan and Mace, 2012). Lt. Louis Klement (VADJA), a Hungarian national had been dropped into Poland and had made his way to Budapest with a W/T set. Klement had a 'colourful past' ranging from being a former French Foreign Legionnaire, paratrooper and fought in Norway prior trying to join the British Army and facing a court martial with imprisonment on the Isle of Man (Ogden, 2010; Grehan and Mace, 2012). He worked with an anti-Fascist cell collecting information on airfields, factories and output from oil refineries as well as demonstrating a flair for forging documents (Schandl, 2007). The group also were highly successful in liberating Allied POWs who were repatriated to Bari in southern Italy through Tito's forces in Yugoslavia. Klement is known to have gone to Count Peter Pejačević to collect another W/T set in August 1943 brought to Hungary via Madrid in a diplomatic bag but was away and the set was passed on to his sister Countess Marie who resided in the Royal Palace. Unfortunately, she was also away when Klement arrived and her brother Count Geza had no knowledge of it. Count Geza and his brother Marcus eventually buried the W/T set with the countess destroying the ciphers. Klement returned to the Royal Palace in September 1943 attempting to retrieve the set and was advised by the countess where it was buried (Schandl, 2007; Ogden, 2010). Klement's activities within the network brought him into contact with Karoly Schandl and Gabor Haraszty (ALBERT) who were old friends from pre-war days. All reported to Jacques Dubreuil who was Polish and working for the SIS as an Inter Service Liaison Department officer (ISLD) and the Polish underground when the Polish legation left Budapest. The group were very secret (Schandl, 2007) and were helping Hungarian Jews. Gabor left Hungary on 15th May 1944 to meet the allies and the Jewish parachutists (Schandl, 2007). Gabor crossed the Hungarian/ Yugoslav border at Herginitza in disguise, carrying false papers as a diplomatic courier to meet with the Jewish paratroopers and carried a communiqué from the Hungarian Prime Minister wishing to surrender to the Allies (Schandl, 2007). Gabor met Reuven Dafni and as a result the CHICKEN mission emerged as a plan to smuggle Hungarian Jews to Palestine. Gabor gave Hannah Senesh (MINNIE) the details of the safe route to get to Budapest (Schandl, 2007) and a list of 'helpers' in Budapest. In Bari, (flown there by a Lysander) Gabor met with MI9 and Sq. Leader Lawson who suggested the use of Col. Howie and some exiled Poles as contacts for the CHICKEN Mission.
Klement was caught by the NKVD sometime between December 1944 and early 1945. He ended up in a high security prison in Vladimir, Russia with Laslo Pap, Van der Waals and Karoly Schandl with only Schandl surviving their imprisonment (Grehan and Mace, 2012). The facts relating to Klement are confused and some elements of the account differ depending upon which British department (War Office and the Foreign Office) handling of the affair as the archives show (Schandl, 2007; Ogden, 2010). Despite government enquiries, it is most likely Klement died in prison (Grehan and Mace, 2012; Schandl, 2007) having suffered torture at the hands of the NKVD and shot. (Only when his files are made public in January 2022 will we learn more).
By mid-1942 the political situation within Hungary had become increasingly unstable and under greater overt control by Germany. The deputy Regent Istavan Horthy had mysteriously died on 20th August 1942 flying for the Hungarian Air Force on the Eastern Front against the Soviets in a MÁVAG Héja V.421 which were prone to stalling after a modification to protect the pilots from flak and air-to air combat. He was a humanitarian, a staunch opponent of the Nazis and the 'Jewish Question'. Politically, he was popular and would resist any further Nazi intrusion into Hungary's politics. Admiral Horthy was a principled man and his failure to successfully lead Hungary towards a lasting armistice was not through incapacity, weakness, or indecision. Simply, despite SIS overtures, Hungary was outnumbered ten to one by the Germans and twenty to one by the Soviets with each regarding the occupation of Hungary as a 'pre-requisite for their own aggrandisement' (Simon, 2000 introduction based on Nicholas Roosevelt observations). Jeszensky (2014) suggested that Horthy's observation of the Nazi's crushing Europe, presented an opportunity to undo what was seen as injustices to minority Hungarians ceded to bordering nations at the Treaty of Trianon on 4th June 1920 (Trianoni békeszerződés) and thus sealed Hungary's fate.
Often overlooked, but crucial in the 'secret war' was the use of political broadcasts. The Hungarian Nation's Radio Station (Magyar Nemzet Rádiója) or later Radio Petőfi began broadcasts on 6th September 1942 whose propaganda seemed to differ and be at odds with Britain's BBC (Becker, 2018). The lack of clarity would undermine messages to Horthy and the political elite from SOE and MI9. This was a fundamental mistake for any propaganda not being synchronised with the main strategic plan that added to complexity and confusion in dealing with Hungary.
Although many members of the neo-Fascist Arrow Cross Party (Nyilaskeresztes Párt) had been suppressed in political activity or through imprisonment since the outbreak of war, Germany sought a likely ally to eventually govern. On 12th March 1944 (Operation MARGARETHE) Germany invaded Hungary and took over the running of major institutions. The invasion and the setting up of a collaborationist government of Döme Sztójay in March 1944 enabled the Arrow Cross to gain greater support and making it more imperative that the setting up of Jewish escape routes through changing tactics from small individual parties to managing a greater volume. Yishev had been active since 1920s in Europe and had a small, yet effective network operating out of Istanbul (Friling, 2006) assisting small groups to escape to Palestine. Activities spanned political and economic warfare, military intelligence, and the need to rescue Jews from Nazi-occupied territory whose role was compromised through a Nazi double and triple agents sting (Friling, 2006) rendering the network less effective that today remains difficult to analyse its effectiveness (Friling, 2006).
OSS began a two-faced deception game from March 1943 to discredit the Hungarian leadership and provoke the German invasion that ultimately placed 825,000 Jews at risk. Operation SPARROW led by Lt. Col. F. Duke was essentially a 'fake 'operation based on securing an armistice for Hungary (Miller, 2002) and this strengthen Germany's need to invade three days later. The Germans had long been aware of Hungarian echelons secretly negotiating for peace since the end of 1943 through their double agent based on discussions with Colonel Ottó von Hatz Hátszegi. Although the mission was compromised, the invasion of Hungary kept front-line units away from Normandy and the invasion of Europe while placing the Hungarian Jews and all operations in Hungary at a higher risk especially with the threat of the advancing Soviet Army.
Under German occupation and the real threat of the 'Final Solution' to the Jewish community, operations AMSTERDAM, UNCLE, AUNTIE, CHICKEN, AND CHALLOCK were set up with mission team members being allocated and drawn from the British Army. Mr. Shertock of the Jewish Agency had approached SOE in July 1944 putting at their disposal under the command of Reuven Zazlanyi (Head if Yishuv Intelligence) to form Hungarian-Jewish resistance group (Ogden, 2010; Becker, 2017). With over 300 Palestinian Jews available in the British Army in North Africa with some belonging to the paramilitary group Haganah (Grehen and Mace, 2012; Becker, 2017) (see Hannah Szenes and Haviva Reik), these combat ready personnel would be invaluable in these rescue operations and in the extraction of POW's and air force crews. 13th April 1944 tasked to assist escape lines for POW's and allied airmen Hannah Szenes crossed the Croatian-Hungarian border, escorted by a partisan Major who subsequently disappeared. Szenes was able to get Palgi and Goldstein over the border despite increasingly difficult political interference from the Croatian partisans (who were Hungarian Agents) thus making the crossing more difficult.
Joel Brand of the Jewish Aid and Rescue Committee and staunch Zionist was summoned by SS Obersturmbannführer Otto Eichmann to a meeting in the Majestic Hotel in Budapest with SS Lt. Kurt Bucher observing (Schandl, 2007) to negotiate a deal that was bizarre both then and today. The proposal was that Eichmann would 'sell' 1 million Jews for 10,000 operational trucks from the Allies and blow up the gas chambers at Auschwitz (Schandl, 2007). Brand left for Istanbul on 16th May 1944 to consult the Jewish Agency based there with the scheme that was not surprisingly turned down with Brand being arrested by the British (Lappin-Eppel, 2010).
The agreement brokered between Jewish Aid and Rescue Committee/ Yishuv and SOE although mutually beneficial, was indeed exploitation by SOE to advance the end of the war (Becker, 2017). In early 1943, Zazlanyi had initially presented to General Alexander a plan for large scale commando operations with 300 paratroopers to link up with Hungarian and Romanian Jews in the Ruthenia and Szatmárnémeti area of north-east Hungary (Becker, 2017) which was later rejected by the War Office due to the location being within the Soviet sphere of influence and the F.O wanted to avoid causing problems due to other strategic pressures that were revealed later at the Tehran Conference.
A similar plan was presented after the mass deportation of 430,000 Jews between 14th May and 9th July1944 (Lappin, 2000) where it was seen to turn 'victims' into fighters. A proposed second drop at the intersection of Hungary, Yugoslavia, and Romanian borders at Bánát would enable the mission to link up with the northern group as well as Tito's forces (Becker, 2017). Becker (2017) suggested that the utilisation of Jewish paratroopers on blind drops was suspect in terms of sacrificing agents to complete SOE's current goals with an undertone of antisemitism rather than relying on Zazlanyi's intelligence gathering that was questioned back in London. This tainted relations and 'clouded' analysis of these operations. SOE strategic planning from the outset for ground operations had been more of a process of circumstantial evolution rather than goal setting since their strategy had failed to deliver or stimulate resistance and relied too heavily on 'feelers' put out for armistice. Despite this, the amended plan by Shertok – Zazlanyi was approved in late August 1944 on the understanding the paratroopers would have SOE training and cover whilst in the field with a BLO in each drop and remove what one "senior British official described as active and resourceful Jews from Palestine" (Becker, 2017: 90) thus denying the Jewish Agency any credit.
The British RAF and USAF bombing of oil refineries and storage facilities with mine laying in the River Danube on 2nd July 1944 included leaflets dropped threatening reprisals on those involved with deportations to concentration camps. Deportations temporarily stopped on the 8thJuly 1944 that enabled a variety of rescue missions such as, Raoul Wallenberg use of visas to Sweden or the Swiss diplomat Carl Lutz who used a 'protective letter' (Schutzbriefe) to assist the emigration of 7,800 Jews to Palestine acquired from the British. Lutz used unconventional methods to protect as many Jews as possible through designation of buildings at 29 Vadasz Utca in Budapest as the 'Swiss Legation's Emigration Department' much to the chagrin of Eichmann.
In the closing days of the Soviet invasion of Hungary, Soviet advances, and the threat of a siege around Budapest increased pressure on Jewish transport to camps. On the 8th November 1944, Eichmann ordered a secret 'death march' to the Austrian border. After the Arrow Cross (Nyílas) putsch, deportations resumed. 700-800 Jews from Budapest were transported to the Austrian border for the construction of fortifications known as the Südostwall (Those who survived were sent to Dachau and Mauthausen). The strain on train transport and further Soviet advances made Auschwitz-Birkenau risky (Lappin-Eppel, 2010) and eventually death marches would empty many camps (including POW camps) at the catastrophic loss of life. The previous June 15,000 Jews had been deported to Vienna and Lower Austria Gau for slave labour. Labour shortages were crippling both the German and Austrian war effort with Eichmann's deportation of 15,000 from the ghettos in Szolnok and Debrecen with a promise a further 30,000 from Budapest and surrounding districts to be held in Austria and would be freed if Eichmann's negotiations with the Allies were successful. Horthy's orders to temporarily stop deportations on 6th July alone saved in the region of 200,000 Jews living in Budapest (Lappin-Eppel, 2010).
At the same time another deportation called the "Palestine transport" with 1,700 holders of immigration certificates were sent to the Bergen-Belsen camp complex and subsequently released into Switzerland (Lappin-Eppel, 2010). The bargaining by placing a value on the head of each person rescued demonstrated how desperate and depraved the Special Commando of the SS were in the closing days of the war. Even the Hungarian Army deliberately drafted 80,00 men into the Labour Service and did not hand them over to defy the Nazis.
With the advancing Soviet Army, both the Czech's and Slovaks decided to revolt against their masters that had nothing to do with SOE operations (Foot, 1984; Downes, 2002). In August 1944 the Slovaks became tired of the Czech dominance in government. A small communist inspired partisan group had been operating in the Carpathians just east of Košice since Spring 1942 (Foot, 1984) and planned to replace Jozef Gašpar Tiso's republic with their own version that was more anti-Fascist and more pro-Soviet. It is estimated some 20 battalions of poorly armed soldiers were in the east of the country with Banská Bystrica at its centre. Soviet field support amounted to trying to break through the Carpathian Mountains and using the Dukla Pass where the casualty rates were four times higher than on the Warsaw Front between August and September 1944 (Davies, 2003). The Soviets also flew in a brigade of Czechoslovakian paratroopers between 26th September and 8th October (Foot, 1984; Downs, 2002) along with 15 fighter aircraft that had no spares or fuel rendering them operationally useless. Lt. Colonel Threlfall flew out of Bari on 7th October 1944 in a fleet of 6 USAAF Flying Fortresses to Tri Duby to meet General Golian. German advances in the Zvolen area were pushing the Slovaks back towards the hills and Carpathian Mountains making requests for ammunition and supplies riskier with LZ's potentially being over-run and increased desperation for the surviving team. The SOE operation that was destined for Hungary (WINDPROOF) via Slovakia was a more expedient route and the team became caught up in the collapsing Slovak Uprising with the Czech operations MANGANESE and MICA thus forcing them to join the now desperate OSS operation (DAWES).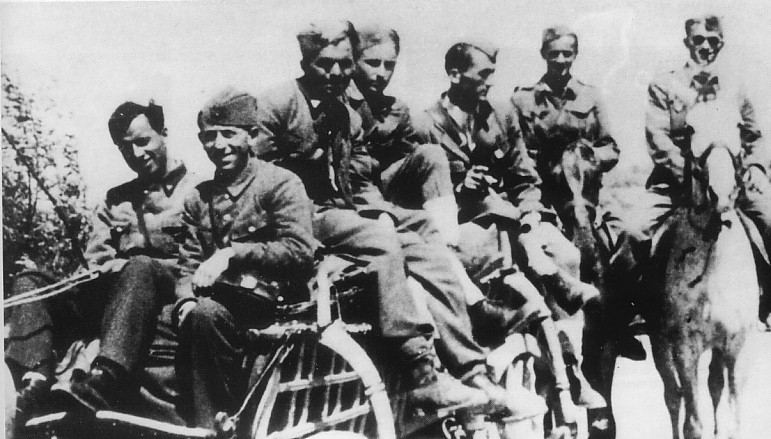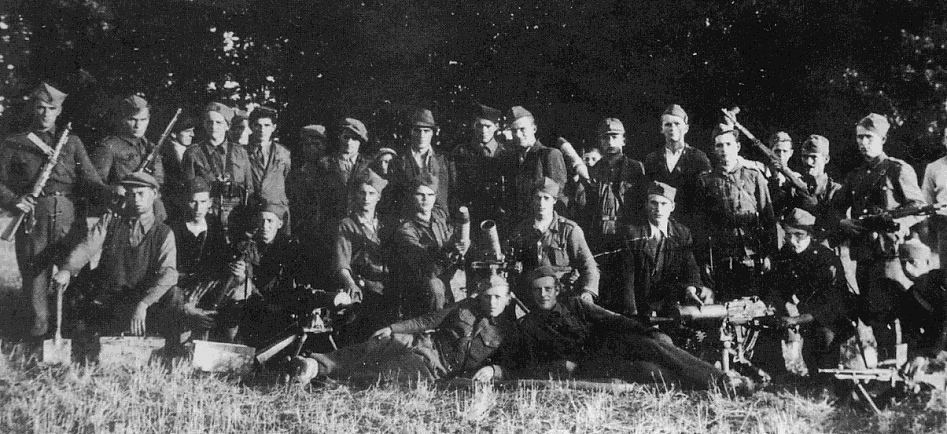 As the Rising collapsed further, the remnants of the Slovak Army were largely destroyed. Some members of the DAWES Mission escaped via Romania (Downes, 2002) and WINDPROOF team holed up in a hut above Polomka in the Hron Valley where they were captured. Like many of the OSS team, the harsh winter and the forced march towards Soviet lines took its toll on the survivors. Poor weather hampered any chance of resupply and eventually were betrayed by a partisan guard (Bandi Gönder). On 26th December 250 German troops and a unit from a special anti-partisan SS unit captured the OSS and British teams (Ogden, 2010). Those who escaped were located higher in the Velky Bok Lodge: Steve Catlos, Pv. Kenneth Dunlevy, Stefan Zanopian, Bill Davies, Maria Gulovich (translator) and a partisan schoolteacher who would eventually lead them to safety (Downs, 2002).
Those who were part of the Jewish rescue operations were summarily killed in the field. Haviva Reik and Stephan Reiss had initially escaped with about 40 Jewish partisans and were captured by Ukrainian Waffen SS on 20th November 1944. Hannah Szenes of the CHICKEN operation was captured on the Hungarian border with her radio.
| | | |
| --- | --- | --- |
| | | |
| Hannah Szenes | | Hanviva Reik |
Taken to Budapest and the Hungarian Intelligence HQ, Hannah was severely tortured for several months and tried for espionage, never broke, and defied her torturers until her tragic end when she was shot on 7th November 1944 (Schandle, 2007; Grehan and Mace, 2012). Major J. Sehmer was captured with his team and initially held at Banská Bystrica before being sent to Mauthausen Concentration Camp. Major Sehmer was singled out for a brutal and sadistic torture regime by SS-Standartenführer Franz Zieries that had no benefit other than pleasure in the despicable inhumane acts. Major Sehmer was shot around 24th January 1945 along with Lt. James Holt, Joseph Morton and eleven members of the OSS team. They were dumped in mass unmarked graves. Ziereis and his wife fled into the Austrian Alps and was captured at his hunting lodge on 23rd May 1945. In an attempted escape, he was shot and seriously wounded and died where his body was hanged on the fence at Gusen 1, part of the Mauthausen complex). link to WINDPROOF page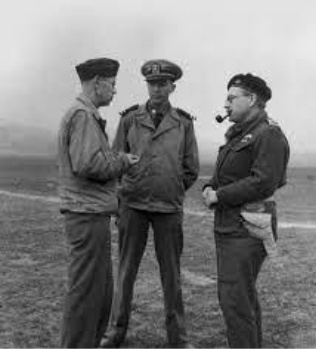 HLt. J. Holt Green (Centre) with Major J. Sehmer (right) probably taken at Tri Duby
In terms of logistics, the first flight consisted of two stripped-down B-17's with six members of the DAWES Team: Navy Lt. J. Holt Green, M.S. Jaroslav Mican (originally Czech), Sg. Joseth Horváth, Sg. John Schwartz (JAN KRIZAN) and two W/T operators Private Robert Brown and Navy Specialist 1st Class Charles P. Heller. The team were experienced (namely in Yugoslavia) in various aspects of field operations. They landed to a rapturous greeting and 5 tonnes of ammunition with the return flight taking out 15 Allied airmen to Bari. The second flight, three weeks later 7th October, consisted of six B-17's escorted by 32 P-51 fighters and more personnel, 20 tonnes of munitions especially bazookas, medical supplies, food and clothing with 28 airmen to return to Bari. The mission was well planned and had not anticipated the speed of the German rout. The DAWES mission was a tragedy. Outstanding creative and brave people gave their 'all' with little regard for their own survival for a daring mission that remained largely secret until the 1960s within Central Europe and later in Western Europe.
Although Lt. Colonel Howie arrived in Budapest in September 1943, building up a network was slow and arduous, and many Polish groups worked independently of each other. While inside an internee camp he was introduced to Lieut. Radyskiewicz and his wife (Countess Tarnopolska) that helped him move about under the guise of a Dutch engineer. They used a cut-out courier who introduced him to Prince Andrew Sapieha who had the protection and confidence of the Horthy party and was awarded many privileges (PRO HS4/226/98295). Prince Andrew Sapieha was the personal representative of General Bor-Komorowski, (head of the AK) and there were approximately 30 men working under him in reconnaissance and signals. Lt. Colonel Howie was impressed with the running of the organizations and commented upon the high frequency of trips made by couriers to Poland where some had made over 100 trips (ARTUR or Colonel Matuszczak). This well-organized unit included Colonel Corvin and Officer Szuroda and supported by Madame Rawuska (code name Marie-Rose). The networks were small and carried out a wide variety of tasks. For example, radio valves and spares made by Phillip's in Hungary made their way via these couriers to Poland to repair damaged W/T sets supplied to the AK.
Lt. Colonel Howie was also in contact with Gabor Haraszty (ALBERT) and through Gabor had access to a variety of Hungarian professionals, nationalists and the Jewish community through Karoly Schandl and a string of 'helpers' who were passing POW's, aircrew and Jews down escape routes. Schandl was later arrested by the NKVD and imprisoned in the Lubyanka before being moved to the Vladimir prison for eleven years. Raoul Wallenberg and Gabor Haraszty were secretly imprisoned with him (Schandl, 2007). Gabor was also handling the 'Swedish gold' and although thought to have been shot by the Soviets, mysteriously resurfaced decades later.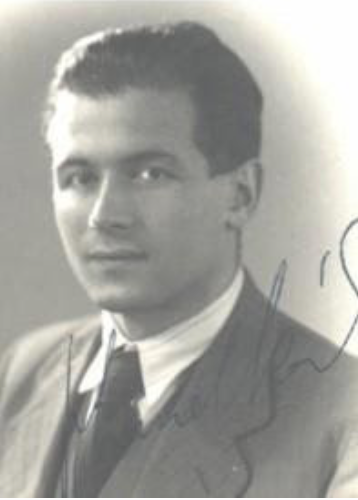 Karoly Schandl (Kindly lent by Catherine Schandl)
a flat belonging to Father Szent-Ivanyi who had pro-Anglo sympathies. Howie, after arriving in Budapest presented himself to Colonel Baló, head of XXI Department of the Hungarian War Ministry was sympathetic to Howie's cause (Ogden, 2010). When Colonel Utassy replaced Colonel Baló, on his suggestion Howie was sent to Svigetvár camp on the estate of Count Andrássy in sothern Hungary. It was not before long through his contacts in the Polish underground that Lt. Colonel Howie came to the attention of SOE who through the Poles arranged for a flat belonging to Father Szent-Ivanyi who had pro-Anglo sympathies.
The AK assisted in setting up a W/T in Father Szent-Ivanyi flat transmitting reports. Put in charge of Allied prisoners of war, Howie was not trained as an intelligence officer, but came from the artillery which did not significantly hamper his operations; indeed, his personal bravery made a great impact on the operation. However, Howie's limited understanding and analysis of the geopolitics in Hungary limited options. He also focussed on the Anglophobes in Hungary's political elite and tried to persuade Joel Brand to give up immigration certificates destined for Jewish children to Allied soldiers to no avail (Schandl, 2007). With the German invasion on the 19th March 1944 Howie's position was perilous. Through his Polish connections, Howie secretly visited Buda Castle in the company of Mikló Horthy, younger son of Admiral Horthy (Ogden, 2007) to discuss the armistice.
Father Szent-Ivanyi undertook rounds of POW camps to ensure the conditions of the British were improved. However, when the Germans invaded Hungary in March 1944 many Polish working in 'cells' were caught and shot by the Gestapo including Officer Szuroda. Such was the influence of Prince Andrew Sapieha that W/T transmissions were made from the Royal Palace and this group was used to negotiate with Admiral Horthy a conditional surrender after the collapse of Romania. Unfortunately, pro-German officers arrested the team and therefore delayed the planned course of history. Released and put under the care of Colonel Tost (Horthy's ADC) the team tried to signal the FO and the Supreme Command, but as the transmission sked was out of synch, the messages were not received. The Gestapo picked up the signal and requested information about 'strange signals' being transmitted from the palace. The Hungarians were afraid and further transmissions cancelled. Couriers took the message of surrender overland to Hungarian Legations based in Switzerland and Sweden.
The team were whisked out of Budapest to lake Balaton and hidden then moved across the Danube to the home of Baroness Romaska. Here a plan was hatched to negotiate the release of interned Polish military personnel and arm them against the Germans. The Hungarian authorities (under the command of Colonel Utasi and pro-German) moved the Polish internees to the northern edge of lake Balaton in the Zala area. Numbering 10,000 Lt. Colonel Howie estimated only 3,000 could be described as in fighting condition and ready to fight under the command of Colonel Corvin. Kapronczay (1999) suggested the number to be closer to 6,000 with a smaller residue of civilian refugees numbering 3,500 out of a total of 110,000 people who had originally fled to Hungary. Colonel Jan Korkozowicz took over the command of the Polish troops where special units were created in the Pesthidegkút camp (Kochanski, 2012) just outside Budapest. The goal was to train the troops for action either in Poland with the AK or support the Anglo-American invasion of the Balkans. These plans were supported by Hungary's General Staff and Colonel Lorand Utassy sanctioned weapons and training exercises within Hungarian army bases.
The Hungarians broadly supported the plan for a coup d'état and were concerned the Germans would find out. The plan never materialised due to the German invasion of Hungary on 19th March 1944. The Gestapo were swift in suppressing any Polish organisations through arresting their leaders and deported the president of the Polish Committee Henryk Sławik to Mauthausen for execution. Around 600 Poles were arrested, and all Polish schools closed (Kochanski, 2012).
What happens next took all by surprise. Lt. Col. Howie crash landed in a Heinkel 111 at Madna near Termoli in Italy on 22nd September with General István Náday, Deputy Chief of Staff to negotiate peace terms. Having dodged German AA batteries and flying in Allied airspace, a broken W/T and lack of night landing facilities in Naples, a US AA battery fired upon the Heinkle (Ogden, 2007). The party presented the armistice plan that requested Allied forces to occupy Hungary. The timing was not perfect. Romania capitulated and left the Axis on 23rd August 1944 with Soviet troops crossing the Hungarian border on the 22-23rd September 1944. The proposed armistice and use of Allied troops were rejected by the US State Department based on a telegram sent by Alexander C. Kirk, U.S. Political Adviser, Staff of the Supreme Allied Commander, Mediterranean Theater and Britain's FO both of whom believed the proposals did not face the reality of the situation. General István Náday had arrived with no credentials and as an outcome Horthy sent a representative to negotiate with the Soviets (Ogden, 2007).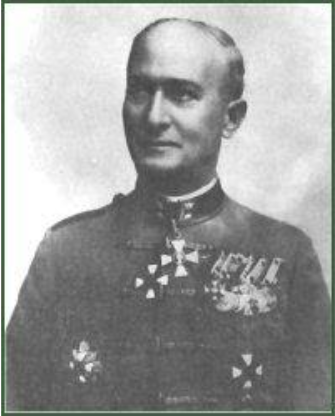 General István Náday
While Hitler hid behind shallow legalistic jargon to intimidate the Hungarians, the Gestapo rounded up anti-Nazi sympathisers, Jews, journalists, priests, and anybody who might openly resist. The Nazi war machine had officially swallowed up Hungary. Plotting and a potential coup d'etat to put General Sztojay as Regent were the final curtain call for a complex war. As Germany withdrew through Bulgaria and Rumania, numerous states began simultaneous negotiations with both the Russians and the Allies in secret with any troops being withdrawn from supporting Nazi activity in the Balkans. The politically besieged Admiral Horthy attempted to escape the Nazi grip. In October 15th1944, he attempted to broadcast a proclamation on Radio Budapest and the Gestapo supported by Nazi sympathisers killed the student guard and pursued Horthy to the Palace where the defenders were murdered, and their bodies dumped in the Danube. Admiral Horthy and members of his family were deported to Germany. Major Szalasi, leader of the Arrow Cross party seized power and lasted just seven weeks before fleeing to Vienna to escape the advancing Russian Army. Horthy and his family were sent to concentration camps and although released, post war politics (namely at the instigation of Tito) kept them virtual house prisoners.
In the same archived material is a request by the Allied Supreme Commander, Eisenhower (dated Sept 1944) demanding access to the Poles interned in Switzerland (2DSP), other fragments in France and those conscripted into German Units to reinforce his main battle groups. Naturally, the Government in Exile turned down his request due to it being outside his sphere of influence. In the light of the Yalta Agreement where all Polish personnel would become 'illegal,' the request was at odds with the planned political settlement in Europe. (Hyperlink 2DSP page)
While the operations in Hungary were essential in the supply and flow of information from underground operatives, exiled Poles were active in other theatres of war. Poles were found fighting in Yugoslavia, Greece, and Albania. Although Lt. Col. Hazell led M/UP with their work focussed on mainland Europe, subgroups worked in the Mediterranean on special missions. Colonel Hancza was based in Italy and worked for Section VI Bureau at Polish Headquarters and coordinated Polish outfits located in the Balkans. Lt. Colonel Mercik was based in Cairo and coordinated his work through what was known as AD/E (SOE's head of operations in N.W Europe) in London (PROHS4/226/98295). Little is available in the English publications over Polish activities in the Balkans. However, their role must not be overlooked or diminished in any way. A cable sent on 20th July 1944 by Lt. Col. Hazell (PROHS4/226/98295) indicates the operation being run by a British liaison officer hampered activities in Greece, Crete, and Rhodes. It appears the plan was for organising a revolt of foreign troops on the island but needed a Polish officer to lead a 'substantial unit' in the field.
Other activities involved specialist units (MP/50) looking at destabilising the German occupation of Yugoslavia. Major Gawronski appeared to be in contact with Tito's foreign minister with Smodlacka to broadcast propaganda alongside subversive military activities. However, plans were withdrawn, as Tito did not recognise the Polish Government in Exile as an ally.
Aftermath:
SOE's chance of success in Hungary were slim due to the complexity of the geopolitics and 'circus rings' of interests. The focus on Hungary leaving the Axis and declaring an armistice while avoiding the development of a viable resistance army would place all operations at greater risk since there was little or no backup on the ground. The lack in developing a resistance army was counterintuitive to the successes experienced elsewhere in Europe. The involvement of Yishev and the decision to accede the Jewish paratroopers, questions the real motives behind SOE (Friling, 2006; Becker, 2017). Colonel Guiness's signature on a co-operation and liaison agreement with the NKVD (Mackenzie, 2002) placed Hungary within the centre of the Soviet's sphere of influence and ultimately behind the 'Iron Curtain' of post war Europe. This agreement partially explains the F. O's stance throughout the war and the hampering in SOE's strategic planning that put all missions at higher risk. This stance was not experienced in the same manner in other operational theatres of war. The F.O's policy was reinforced at the second Quebec Conference on 11th to 16th September 1944 (code name Octogon) whereby the occupation zones had become delineated as a post-war carve-up of Europe by the leading Allies.
The ciphers from 24th October 1944 (PRO/HS4/245/223485) indicated how desperate the Windproof team were becoming. They had been cut off at Slavosovce about 90km East of Banska Bystrica with 250 C.F.I soldiers, 250 partisans and another 400 men without arms. The archives demonstrate how desperate the collapse of the Slovak Rising was to the team. Repeated requests for arms and ammunition, medical supplies and uniforms demonstrates the level of depravation in essentials to keep the remnants of the mission's ability to survive.
Although the Slovak Rising was poorly timed, the impact on the Nazis highlighted a weakness within the collapsing Reich and the fragility of the Axis countries after Italy had capitulated on 3rd September 1943. The surprise coup by King Michael of Romania on 23rd August 1944 threatened not only the Soviet plans for post-war Europe, but also securing the Eastern Front (Delentant, 2016). The coup and hope for amnesty exposed the Reich's plans for orderly withdrawal from Greece and Yugoslavia and thereby avoid a rout. Suspicion that Hungary was seeking an amnesty required urgent action to hold the Eastern Front by holding back the Second Ukrainian Front led by General Malinovsky and expedite the withdrawal. The need to suppress the Uprising by anti-partisan action of Einsatzgruppe H that had been specially created to murder or deport the remaining Slovak Jews aided by the Hlinka Guard Emergency Divisions (a Slovak paramilitary unit) with some 10,000 casualties on both sides, highlights the aggressive suppression of the Rising. The counterattack through an opportunistic 'window' created when the Soviet forces came to a sudden, inexplicable halt in late October 1944 created suspicion with Soviet intentions since Stalin had done something similar to the Poles during the Warsaw Rising in August 1944. This and the lack of Soviet backed partisans' engagement with Golian's forces doomed the Uprising and enabled Stalin to conveniently remove any post-war opposition to Sovietisation.
While support for the Slovak Rising deflected resources and personnel from SOE's and SIS/ OSS activities in Hungary, the sheer selfless courage of those who participated in these missions is inspirational especially the Jewish Paratroopers for generations to come.
| | | | |
| --- | --- | --- | --- |
| Organisation(s) | Operation Name or Operatives | Personnel | Aim/Activity of Operation |
| SOE Missions | PILATUS | Lt. L. Klement (Tibor, Lewis, Lajos, Clement, Vadja) | 13-14 March 1943 to set up intel gathering in Budapest. Arrived via Poland and joined existing underground cell who passed on military information and assisted in the liberation of allied prisoners in Hungarian camps. Arrested in early 1945 by the NKVD/ SMERSH as a British spy and transported to Vladimir prison in Russia. Sentenced to 12 years. Held in special cells with Lazlo Pap and Karoly Schandl who was the only one to survive. Klement's file is still closed to public access until 1st January 2022. |
| | DECIMA/ SAVANNAH | Major B. Davidson Capt. T. Howe Lt. S. Markos (István Damo) Lt. Wood (Aurel Weinzierl W/T Op. Cpl. G. Armstrong | 15th August 1943 infiltrated via northern Yugoslavia to contacting left-wing partisans in Hungary. Tasked with non-political activities and sabotage of rail networks. Based at Fruška Gora. |
| | DANHILL (PILATUS II) | Lt. I. Agoston (István Szabo) | 8-9th April blind drop to establish reception parties. Probably not survived. |
| | SANDY (cancelled) | Lt. Col. P. Boughey Capt. Coates | |
| | SANDY 1 (FETTES) | Capt. R. Young Capt. Whittaker W/T.Op. Sgt. Scott | Dropped into northern Yugoslavia in VI Partizan Corps HQ for forward ops into Hungary. Sabotage mission of communications especially railway bridges. Based near Pécs. It was tasked of setting up a base further west in Slovenia. |
| | SANDY II | Lt. G. Bertram (Bertrand, Gustav Bódó, Hosszu Zoltan) | 3-4 June 1944 to set up in Pécs area safe houses and reception committees to bolster SANDY 1. |
| | DARESBURY | Maj. P. Harker replaced by Maj. Maydwell Capt. Hadow Lt. Laban W/T. Op. Sgt Peaker replaced with Cpl. Purdhy | 20-21 June 1944 with same brief as SANDY 1. Based near Pécs it was tasked of setting up a base further west in Slovenia to hamper any German retreat. |
| | DEERHURST | Lt. Col. P. Broughay Major R. Wright Lt. A Vincent (Sándor Vass) W/T Op. Cpl. T. Manley | Plan to contact former Hungarian officers leading 300 resistance men northwest of Lake Bàlàton. DZ near Pécs. Mission was likely to fail due to misunderstanding local conditions and Nazi counterintelligence. Blind drop and landed by Jewish slave labour camp and captured. Taken to Gestapo HQ based at Fö Utca in Budapest then Stalag III in Silesia. Their Halifax II serial no. JP 286 transporter was shot down over Kaposvar with all crew perished: Pilot Sqd.Ldr Baird with crew of W/O Stewart RCAF, F/O Crain RAFVR, F/Sgt Lake RAFVR, F/Sgt Lee RAFVR, F/Sgt Pearson RAF, F/Sgt Radford RAFVR F/Sgt Tilmont RAFVR Vass was unfortunately killed in a POW camp at Limburg during an Allied air raid. |
| | DIBBLER | Maj. J. Coates Lt.J. Gordon (József Gelleny) Lt. M. Thomas (Miklós Turk) Lt. T. Byron (Tamás Révai) | 10th September 1944 evacuated FETTES operation. 13th September dropped north of Pécs to contact SANDY II. Aim of the mission was sabotage and passive resistance and to protect vital installations from being destroyed by retreating German Army. LZ wrong place near Abaliget with lost kit but managed to get to RV at Orfü. Team captured and were expected as Lt. Bertram had been captured near Kaposvar in July and was broadcasting messages under duress. |
| | MANGANESE (Czechoslovakia) | O/C Vanura Sgt.Maj Kosina Sgt. Maj. Biros | 9th June 1944 dropped 75Km off LZ near Veľké Uherce in Topoľčany to link up with WINDPROOF. |
| | EPIGRAM (DECIMA) | Capt. T. Howe Lt. A Murphy (Ádám Magyar) | Left Fushka Gora to Banat in Romania to meet up with Lt. Markos and Lt. Wood and then head for Budapest. Got as far as Petrograd and met advancing Soviet Army. Requested assistance to get to Budapest. The FO suggested the mission no longer had purpose going to Budapest. A blind drop was planned for Major Kemp in the Matra mountains area linked to a study of using Count Wenckheim's estate at Sekes as a courier line. |
| | DESFORD | Maj. D. Longe (Maj. Kemp) Capt. Houseman | See link to DESFORD page |
| | WINDPROOF | Major J. Sehmer Lt. A. Daniels (András Durovecz) Lt. Stevenson (Steve Zenopian) W/T Op. Cpl. W. Davies (Maria Culovics) | See link to WINDPROOF page |
| | DINDER | Capt. D. Franks Lt. Herbert W/T Op. Sgt Diskinson | |
| | MICA | Lt. Col. K. Greenless Lt. Col. R. Raw Capt. Schweiter W/T. Op. Sgt. Edwards | High-level liaison mission with General Viest in Slovakia left London 21st October 1944 for Bari. Due to be dropped 21st January 1945 into Donovaly area. By October the Slovak Rising had almost collapsed with guerrilla warfare adopted with the remnants of the Slovak Army. With the collapse of the Slovak Rising, Viest was captured 4th November 1944 and later transferred to Vienna 10th November on Himmler's orders and then moved to Berlin where the Reichssicherheitshauptamt (RSHA) prison on Prinz-Albert Strasse for interrogation. MICA proposed to join the Czech Airborne Brigade under Prikyrl met Soviet opposition with the team returning to London 21st January 1945. |
| | BAUXITE II (PIGOTITE) | Maj. J. Foster Maj. G. Seymour | Linked to WINDPROOF and Slovak National Uprising as a support/ resupply role and cancelled when the uprising collapsed. |
| | NATAL | Lt. Colonel Charles Howie Sapper 'Captain' Roy Natusch Sgt. Major Norman McLean Harry Lowenstein W.O Reginald Barratt | SOE operation with non SOE personnel. NATAL was run in parallel with SANDY mission, but unknown to Howie. Prepararation of drop and landing committee based on Count Andrássy estate. Both SANDY and NATAL not take place. |
| | Csíky and Szombathelyi Missions | Not known but linked to the Jewish Agency/ use of Jewish Paratroopers tasked with foment in a British backed military coup. | See Andras Becker's (2017) article as a good source. |
| SIS/SOE Operatives | | Col. Teague Sq. Leader R. Lawson (SIS/ISLD) liaison with M19 Jewish parachutists Maj. J. Wilson (Wanndorfer) Jack (Jacques) Dubreuil (Polish) W/T Op. K. Hensen Gabor Haraszty (ALBERT) Lt. G. van der Waals Lt. E. van Hootegem Lt. F. Brackel Karoly Schandl Lolle Smit | Gabor Haraszty (ALBERT) (also Gabor Haraszti, Gabriel Haraszthy) SIS agent was a young Hungarian lawyer and of Jewish origin oversaw the 'Swedish Gold' and had links to the OSS, Dutch underground, SOE, Chetniks, and Tito's partisans. Trained as an SIS agent early 1944. Also worked with Karoly Schandl with escape and evasion of POW's, Poles and Jewish Hungarians. Captured by the Soviets re-appeared after decades in detention. |
| MI9/ A Force in Hungary – Escape and Evasion Operations | | Lt. Col. C. Howie Tibor Weinstein a Hungarian born Jewish Palestinian (Tom Saunders) Evelyn Gore-Symes (MI9) Sapper R. Natusch W.O R. Barratt (Tim Barker, G. Godden) Rudolf Kasztner Charles Szladits Raphael Rupert Peter Zerkowitz Rev. Alexander Szent Iványi Dr. Francis Pajor | Assist the escape of British prisoners and thus reclaim active soldiers through establishing escape routes Create conditions for the return to the United Kingdom: for those soldiers who managed to avoid captivity but were still in the occupied territory Acquire but also disseminate information that may help in the escape or avoid captivity altogether Assist in denying information to the enemy Maintain the morale of British soldiers in POW camps. |
| Polish Underground (AK) | | Countess Janina Tarnapolska Prince Andrzej Saphieha Col. Matuszczak Artur (Steven Knorr; Wisniewski; Woyda Col. Jan Emisarski-Pindelli | Used the Telegraph Agency Express, a news agency with Józef Radziminski acting as the Balkan representative. Polish military attaché |
| SOE/ MI9 Operations using Yishuv agents. | AMSTERDAM | Rafael Reiss (Sgt. Stephan; Stevenson; Stefan Rice) Sgt. Zvi Ben-Yaakov (Jindrich Grünhut, 2nd Lt. Jamay) Chaim Chermesh (Martha Martinovic) Haviva Reik (Chaviva Reik, Ada Robinson) – Slovak born in the village of Nadabula | Originally planned as two operations with CHALLOCK. Blind drop in Slovakia near Banská Bystrica behind German lines at Vrutky 50Kms and lost all equipment. Walked to Banská Bystrica as they were too far from original drop point at Turčianske Teplice. Members of the Yishuv tasked to organise Jewish resistance and used the B-17s to ferry in a further 35 agents. A few days later Martinovic landed at Tri Duby as W/T operator. |
| | UNCLE | Sgt. Svi Ben-Yaakov (Jindrich Grünhut; 2nd Lt. M. Jamay | Ferried in on B-17s to Banská Bystrica to exfiltrate as many Jews as possible. |
| | AUNTIE | Chaim Chermesh (Martha Martinovic) Haviva Reik (Chaviva Reik; Ada Robinson) | See above. |
| | ANTICLIMAX - GOULASH SCHNITZEL RAVIOLI DOINER | Abba Bardichev/ Berdiczew/ Berdichev (Lt. R. Willis) Rafael Reiss (Sgt. Stephen; Stevenson; Stefan Rice) | See Operation AMSTERDAM: Goulash was a 2-man MI9 team dropped near Craiova in Romania 2-3 May to rescue 300 British and US airmen and assist local Jews. Captured next day that triggered Schnitzel 3-4 June and followed up by Ravioli 30-31st July. These teams reached Bucharest to liaise with the Jewish Agency. Operation Doiner was in August and caused a significant diplomatic stress point. The operation continued to enable the Palestine Office to issue identity papers and transit permits to Palestine for Jewish refugees from Hungary, Poland, and Slovakia much to the irritation of Molotov that strained Soviet relations with Marshall Antonescu and Maniu and SOE's incursion into Foreign Office Affairs. It could also be described as one of the earliest Cold War incidents. |
| | CHICKEN 1, II, ALBERT | Hannah Senesh (Szenes) code name MINNIE Yoel Palgi (Sgt. Nussbacher (MICKY/ HULBERT) MI9 Peretz Goldstein (JONES) Abba Bardichev Sgt. Reuven Dafni (Capt. GARY) Yonnah Rosen (Rosenfeld) Sgt. Grandville Capt. MacCoy | 13th April 1944 tasked to assist escape lines for POW's and allied airmen. Crossed the Croatian-Hungarian border escorted by a partisan Major who disappeared and then was able to get Palgi and Goldstein over under increasingly difficult political interference where the Croatian partisans (were Hungarian Agents) they had met resisted Jewish refugees entering. Palgi and Goldstein eventually arrived in Budapest 23rd June 1944. Met Dr Kasztner who was negotiating a 'rescue train' for 1,600 Jews through payment in Dollars, cash, and jewellery to Kurt Becher. Palgi arrested 27th June and interrogated in Hadic prison where Yoel Pagli and Hannah Senesh were being kept. |
| | CHALLOCK | Svi Ben-Yaakov LEADBURN (Stickler, Morris) | 20th August 1944 Dropped in Slovakia near Banská Bystrica, lost W/T set. Part of MI9's escape and evasion programme of escaped POW's and evading airmen through escape lines. Also tasked with linking up with Jewish leaders who were assisting escape of Jews and partisans that never happened due to the German Army and the Hlinka Guard Emergency Squads suppressing actions at the end of the Slovak Rising. Met up with AMSTERDAM and retreated to the hills above Banská Bystrica with only 3 agents making it to Budapest and later captured. |
| | COBWEB | Maj. R. Eden Maj. Macadam | Exfiltration operation to evacuate 120 airmen and ceased activities by October 1944. Escape and evasion line to the River Drava and on to Zagreb. |
| SIS MI (R) Section D Subversion and propaganda | | Harry Blake-Tyler Initially Sydney Morrell Hubert Harrison ran Section D for propaganda | Supplied Polish organisations through acquisition of Goeland tug fleet and chartering barges from the Anglo-Danubian Transport Company covering the Danube, Black Sea and Aegean Seas to deprive Germans of oil and petroleum from Romania. Included sabotage. Countess Kristina Gizycki (née Skarbek) later known as Christine Granville acted as a 'journalist'. Andrzej Kowerski-Kennedy Jerzy Gizycki |
| OSS | SPARROW | Lt. Col. F. Duke Maj. A. Suarez Capt. G. Nunn | Initially set out as either an anti-Nazi revolt or Hungarian defection based on discussions with Colonel Ottó Von Hatz Hátszegi. who believed Hungarians would withdraw from the Axis. Hatz Hátszegi was known for duplicity and was a German agent that exposed/ compromised the CEREUS net (based in Istanbul) and Operation DOGWOOD. Team Sparrow were dropped on 13th March 1944 near Nagykanizsa. Met General Újszaszy who had arranged meetings with ministers. German Security Service alerted, and Germany used the operation as an excuse to invade Hungary (CIA Archives, 2014). Analysis of the operation indicates it was a 'fake' in order to tie up troops that otherwise could be moved to bolster German units facing operation OVERLORD. |
| | DAWES | Lt. J. Holt Green Sgt. J. Horváth W/Op. Cpl. R. Brown. Lt. J. Gaul. Lt. L. Miller. Sgt. K. Dunlevy | Exfiltration of airmen. Landed at Tri Duby, Slovakia during Slovak Rising. By creating a diversionary front could bring a collapse. Soviet advance stalled and planned for exfiltrating airmen from looked uncertain as Banská Bystrica airfield close to being over-run. WINDPROOF team dropped 18-19th September 1944 at Zarnovica just days before the Rising faced collapse after German counterattack started on 19th September. Ferried in on stripped down B-17s from the 15th US Airforce loaded with supplies. |
| | HOUSEBOAT | Lt. J. Schwartz. Sgt. J. Mican. W/T. Op. C. Heller. | Originally tasked for operations in Czech and Moravia supporting the Czechoslovak First Army with arms and then exfiltrate airmen. German counterattack forced them to stay at Banská Bystrica airfield until weather conditions improved in Bari for more flights |
| | DAY | Capt. E. Baranski. W/T. Op. D. Pavletich. W/T. Op. A. Novak (Anton Facuna) | Tasked to obtain tactical information on Slovak Army in western areas of held territory, penetrate combat lines, and take action in German rear plus train the SA to use bazookas. Ferried in on stripped down B-17s loaded with supplies. |
| | BOWERY | F/O. T. Keszthelyi Sgt. S. Catlos. S. Copra | Linked to DAY Operation would be ferried in on stripped down B-17s loaded with supplies. Then cross Hungarian border to ascertain conditions and Horthy's standing with orders to return to DAWES at Banská Bystrica. |
| | DARE | Lt. F. Perry | Solo mission to develop communication links between Vienna and Bratislava through developing courier routes. |
Sources: Haynes (2000); Downs, (2002); Miller, (2002), Schandl, (2007); Ogden (2010); Kochanski, (2012); Mulley, 2012); Grehan and Mace, (2012); Becker, (2017); Posch, (2019).
Selected References:
Anon (1987) "The Tangled Web", Vol. 3, Issue: Spring released 29.07.2014 (DOC_0000624322) by the CIA.

Agrell, W. (2019) "The Shadows around Wallenberg, Missions to Hungary 1943 – 1945", Historika Media and Wilhelm Agrell, e-book ISBN 9789177890799

Atkin, M. (2021) Pioneers of Irregular War: Secrets of the Military Intelligence Research Department in the Second World War", Pen & Sword Military, UK.

Becker, A. (2017) "British Strategy in Hungary in 1944 and the Hungarian Jewish Commandos of the Special Operations Executive", Hungarian Studies Review, Vol. XLIV, No.1-2, pp 81 – 104.

Becker, A. (2018) "British World War 2 Wireless Propaganda and the Hungarian National Radio", Historical Journal of Film Radio and Telivision, Vol.38, No.1

Bor-Komorowski, T. (1950) "The Secret Army", Victor Gollancz, UK.

Celt, M. (2014) "Parachuting into Poland, 1944: Memoir of a Secret Mission with Józef Retinger". Macfarland & Co, USA.

Ćulibrk, J and Frantzman, S.J. (2013) "The Jewish Paratroopers and the Partisans in Yugoslavia: Yugoslav Perceptions and Recollections 1944-1945", Dapim Studies of the Holocaust, Vol. 26, No. 1, pp 39-59.

Davies, N. (2003) "Rising '44: The Battle for Warsaw," Macmillan, UK.

Deletant, D. (2016) "Mission Accomplished: The Coup of 23 August 1944" in "British Clandestine Activities in Romania during the Second World War", Palgrave Macmillan, UK. Pp. 11-26.

Downs, J. (2002) "World War II: OSS Tragedy in Slovakia", Jim Downes, USA.

Elkin, J. (2014) "A Special Duty", Grosvenor House Publishing, UK.

Fairweather, J. (2019) "The Volunteer: The true story of the resistance hero who infiltrated Auschwitz", WH Allen, UK.

Foot, M.R.D. (1990) "SOE: The Special Operations Executive 1940 – 1946", Mandarin, UK.

Frank, T. (2015) "The "Anglo-Saxon" Orientation of Wartime Hungarian Foreign Policy: The Case of Antal Ullein-Reviczky", Diplomacy and Statecraft, Vol. 26, pp. 1–23.

Friling, T. (2006) "Istanbul 1942-1945: The Kollek-Avriel and Berman-Ofner Networks", in "Secret intelligence and the Holocaust: collected essays from the colloquium at the City University of New York, Graduate Center / ed. by David Bankier. pp.105-156.

Gearon, L.F. (2019) "The Routledge International Handbook of Universities, Security and Intelligence Studies", Routledge, UK.

Grehan, J. and Mace, M. (2012) "Unearthing Churchill's Secret Army: The official list of SOE casualties and their stories", Pen & Sword Military, UK.

Haynes, R. (2000) "Romanian Policy towards Germany, 1936 – 40", Macmillan Press Ltd, UK.

Jeszenszky, G. (2014) "Hungary in the Second World War: Tragic Blunders or Destiny?", Hungarian Review, March, pp.7-21.

Jones, C. (2012) "Good Friends in Low Places? The British Secret Intelligence Service and the Jewish Agency 1939 -45", Middle Eastern Studies, Vol.48, No.3, pp.413-428.

Kapronczay, K. (1999) "Refugees in Hungary: Shelter from the Storm During World War II", Matthias Corvinus Publishing, Toronto, Canada.

Kochanski, H. (2012) "The Eagle Unbowed: Poland and the Poles in the Second World War", Allan Lane, UK.

Lappin, E. (2000) "The Death Marches of Hungarian Jews Through Austria in the Spring of 1945", Yad Vashem Studies, Vol.28, pp.203-242.

Lappin-Eppel, E. (2010) "Ungarisch-jüdische Zwangsarbeiter/innen in Österreich 1944/45. Arbeitseinsatz, Todesmärsche, Folgen", Wien.

Mackenzie, W. (2002) "The Secret History of S.O.E", St. Ermins Press, UK.

Meszerics, T. (2008) "Undermine, or Bring Them Over: SOE and OSS Plans for Hungary in 1943", Journal of Contemporary History, Vol.43, No.2, pp. 195-216.

Miller, R. (2002) "Behind The Lines: The oral history of Special Operations in World War II", Seeker & Warburg, UK. Pp. 212-217.

Ogden, A. (2010) "Through Hitler's Back Door: SOE Operations in Hungary, Slovakia, Romania and Bulgaria 1939 – 1945", Pen & Sword Military, UK.

Posch, M. (2019) "Haviva Reich and Operation Amsterdam in Light of British Sources", Judaica et Holocaustica, Vol.1, No.1, pp. 84-123.

Przewoźnik, A. (2000) "Hungary Intelligence Co-Operation Between Poland and Great Britain During World War II, The Report of the Anglo-Polish Historical Committee, Vol. 1, pp.298-301 and 302-304.

Schandl, C.E. (2007) "The London-Budapest Game", Lulu Books, USA.

Simon, A.L. (2000) "Admiral Nicholas Horthy: Memoirs", Simon Publications, USA.

Veress, L-L. and Takacs, D. (1995) "Clear the Line: Hungary's Struggle to Leave the Axis During the Second World War", Prospero Publications, USA.

West, N. (2014) "Historical Dictionary of British Intelligence", Rowman and Littlefiled (2nd Edn.), USA.

West, N. (2019) "The story of SOE – Britain's Wartime Sabotage Organisation", Front Line Books, UK.
Websites:
Slovak National Uprising 1944
OSS in Action The Mediterranean and European Theaters
Jewsih Virtual Library
Haviva Reik