Poland and the SOE
Churchill had been impressed by the speed and vigour the Poles had resisted the Nazi subjugation (Garlinski, 1969; Nowak, 1983; Foot 1990). The formation of the Home Army caught Churchill's imagination. In May 1940 Churchill and his advisors began to look towards how Britain could support the local populations who were now actively resisting German occupation. A secret underground organization whose purpose was to sabotage, disrupt the war effort and develop the distribution of propaganda as well as the assassination of key figures would provide a tactical and psychological edge.

A secret army aroused much opposition within the conventional military circles (Garlinski, 1969; Foot, 1990) and the project was only saved by Churchill's enthusiasm and affinity for unconventional tactics (Stafford, 1997). The title 'Special Operations Executive' (SOE) aim was best described by Churchill's well used quote 'Exactly. You are to set Europe ablaze!' Hugh Dalton accepted the stewardship of the organization at the meeting.

During the inter-war years, Britain's special section of the General Staff (known as GS/R later to be renamed MI R - Military Intelligence/ Research) had prepared the way for underground warfare. Under Colonel Gubbins (who was later to be head of SOE) clandestine field research in the Baltic, Poland and Low Countries had gathered vital economic, military and geographic information to support a secret army. The organizational structure set up the SOE by 'Sections' looking after individual countries. The support teams looked after training (M), operational dispatch (MO later to be renamed AL for Air Liaison). Gubbins who had been deeply impressed by the Poles organization and zeal to fight ran Polish affairs. Under section EU/P all Polish matters within and external to Poland were dealt with. For the SOE, Polish operations were different since nearly all activities were through the Government in Exile direction and not part of SOE's strategy for the liberation of Europe (Foot, 1990).

The following information has been kindly passed on by Peter Urbanski in November 2020:

During the interwar periods between WW1 to WW2, the Polish Military Section II (Military Cipher & Intelligence Bureau) which was attached to the Private Warsaw company of the A.V.A. Radio Company, as they became involved when the Polish Post Office came across an accidentally sent 'Enigma' from Germany. They studied and reproduced their very own 'Enigma' based upon this standard 'Commercial' Version.
In early 1939 Britain wanted to establish Military Intelligence with Poland, as it did not have 'Agents' at this point in Poland, however their first encounter with Poland was rather 'fruitless' to all concerned with information not forthcoming. However, the next meeting occurs and this time there is good information coming from Poland – this time freely, as Poland said they need 'trust first'. What sped up the contact was that Nazi Germany had just invaded Czechoslovakia in March 1939 that worried England and the world, and so communications and meetings happened immediately, and frequently.
As MI6 and Polish Intelligence continue to meet in Poland, Polish Intelligence and Bronislaw Urbanski now communicate directly with (MI6) - MI(R) Section 'D', with Colonel Colin McVean Gubbins head of (MI6 - MIR Section 'D') which later becomes in 1940 the SOE. He especially dealt with Major Peter Wilkinson, who establishes 'Intel' connections, as Wilkinson is later put in charge of 'Poland' by Colonel Gubbins after July 1939. These meetings came about when Britain realizes that Adolf Hitler is about to threaten world peace, as there is a genuine concern for the safety of Poland, as 'Gubbins' already had Poland's best interests at heart.
July 25th 1939 and MI6/MIR and others with Polish 'Intelligence' meet, including Bronislaw Urbanski a Polish Intelligence and Captain of K.O.P. Branch, secretly in the 'Pyry Forest' near Warsaw, in Poland. This time Poland offers Britain a gift; it is here that they hand over the Polish-made versions of the 'Enigma' Cipher machines, and all its secrets to the Military Intelligence Departments of both France and Britain at the same time.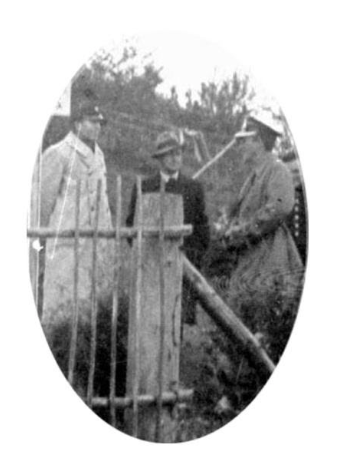 Photo of Captain K.O.P Bronislaw Urbanski with Major Peter Allix Wilkinson MI6/MIR Section 'D' kindly lent by Peter Urbanski.
In the Pyry Forest, it is here that Bronislaw's teacher Maksymilian Ciezki was present. He was also the teacher for, Marian Rejewski, Henryk Zygalski, and Jerzy Rozycki and witnessed the handover. Here a copy of an 'Enigma' was given to both France and British intelligence departments at the same time. It is in this Forest that British MI6/MIR also introduce Bronislaw his 'to be' long time war partner 'Piotr Rybavki' who is British Intelligence, but of Polish descent originally, for 'translations' and a 'go between' to bridge the gap between communications between Britain and Poland. Much later Piotr Rybavki becomes Cichociemni trained in Fyfe in Britain and an SOE.
Major Peter Allix Wilkinson was appointed in charge of Poland and directs MI6 - MIR between Bronislaw and themselves until the invasion. However, in mid-August 1939 it was the 4th and final meeting with Britain and Polish Intelligence departments in Poland. Here, MI6 / MIR were under the reawakened control of British General Adrian Carton De Wiart, who has been living in Poland for nearly a decade, now his home. The General used to go duck hunting with Bronislaw and considered himself 'retired'.


British Intelligence the photo with Cap on of Major Peter Allix Wilkinson MIR Section 'D' taken early 1939. Below is comparative photograph of Bronislaw Urbanski taken early 1948 Western Germany kindly lent by Peter Urbanski.

The new team now came over in 'non military attire' in other words they all wore, civilian clothing like Fedora's, fine British Suits, Scottish 'Tarten Trews' clothing and looked nothing like military officers or 'spies'. They were to find and broker a deal with Polish Commander-in-Chief, 'Marshal Smigly-Ridz' with Stalin, as now both Britain and Poland discover through 'Operation Fall Weis' that Hitler will invade Poland just before September.

However, what the world did not know was that Stalin had already signed a 'pact' with Hitler and was to also later to invade Poland on the 17th of September. Mid to late August 1939 a Polish Intelligence Officer and K.O.P. Captain Bronislaw Urbanski and Major Peter Allix Wilkinson establish 'escape routes' not only for the British Team but for important Military personnel to escape through. They set up escape points including Latvia, and Romania, the latter they use when war finally broke out

But as Hitler invades Poland on the 1st of September, Bronislaw's final task now is to escort the 'Secret Military Mission' to 'Marshal Smigly-Ridz' and safely through a now completely unstable Poland with Nazi invaders occupying large tracts of the country. Bronislaw's Platoon was also protecting the Polish Cipher Bureau, who also 'needed to flee' Poland. General Adrian Carton De Wiart escaped to Romania alongside other members of the British Military Intelligence (MI6). Unfortunately for Bronislaw, Piotr Rybavki, and his team decide that their only solution for the circumstances was to be captured by the Nazi's. Before they were captured Bronislaw carried 'new blank recruit dog tags' and creates false and new military tags for his men. They also found 'tonnes' of newly discarded Polish Army clothing and changed into them. They were filmed upon capture by Joseph Goebbels propaganda team and this can be seen on youtube.com today. Side by side are both British and Polish Intelligence and the Nazi's were totally unaware at the time.

In the early part of the war, sheer distance kept activity between Britain and Poland's secret armies low key. As aviation technology improved and the battlegrounds of Europe shifted after the fall of Stalingrad, activity was stepped up. Infighting, suspicion, petty jealousy and operational disasters, particularly in the Low Countries, caused frustration to the Poles where their special status sometimes appeared to be a burden. No other European country had made such sacrifice and support to Britain's war effort. Despite the brutality of war, £35m in gold and currency was sent by secret courier (Stafford, 1997) to support the Home Army.

Although the first drops of aid were made in February 1941 from unheated Whitley bombers, the fourteen-hour flight (850 miles /1360Km) was on the edge of operational limits despite incursion into the neutral airspace of Sweden. Foot (1990) outlined details of support: 485 drops with the loss of 73 aircraft, 318 parachute drops of personnel, 28 Polish couriers, 7000 damaged railway trains and 600 tons of military supplies. The operational conditions were tough and made more hazardous by keeping the core of the Home Army's command being holed up in Warsaw. Treachery and rivalry was a constant fear for all AK and AL operatives. Adolf Pilch, a young Silesian was dropped into Poland in February 1943 (Garlinski, 1969; Foot, 1990). After being held up to acclimatize in Warsaw, he moved into North East Poland where he contacted numerous small bands of the AK and brought them together as a more effective force relying on stolen German weapons. Partisan units (AL) supported more generously by the NKVD found they were competing for the same 'hearts and minds'. The NKVD had already removed the remnants of the intelligentsia and former army officers to either the Gulags or had perished at Katyn at the outbreak of war. The partisans cornered Pilch along with other officers in December 1943. The officers were captured and sent to the Lubyanka from where few returned at the war's end. Pilch escaped the encirclement and returned in the summer of 1944 with several hundred infantry and cavalry to assist in the Warsaw rising. They marched from Vilna to just outside North West Warsaw sandwiched between advancing Soviet forces and a German army in retreat.

One SOE backed operation enabled agents Ponury and Czarka with 18 men to successfully raid the prison at Pinsk dressed as SS soldiers (Garlinski, 1969). They killed the commandant and a sentry on the main gate, spring 40 prisoners and release 3 other agents. The SOE activities assisted the AK run an army. For example, there was a guerrilla force operating in the woods and foothills south of Warsaw between Radom and Kielce in the heart of nazi occupied territory. The rather flamboyant leader, Ponury was betrayed through a double cross agent, but survived. In one incident, Ponury dressed as an SS officer held up a troop train and confiscated all the small arms from the German soldiers. For other units operating inside Poland, life was tough and dangerous.

The history of the SOE and Poland is well documented in Garlinski's and Foot's books on the subject. However, there are a number of activities Poles were involved in that have tended to be ignored through time. The Enigma decoding of Hitler's secrets has long had many claimants with the role of Poland being pushed to the sideline by too many historians. Different Stations within the SOE were responsible for the design and production of weapons, compact ordnance and wireless technology. In the pre-war years, Poland had refined a German designed detonator called a time-pencil. Perfected by Station IX, the time pencil could be set from 10 minutes to a month and remain highly accurate even in extremes of temperatures. 12 million were produced during the war.

The containers used to drop arms and supplies to agents in the field were prone to damage. The 'C' container was 12 inches in diameter and 5 foot 9 inches long with four carry handles and opened along the axis and weighed up to 100Kg (Foot, 1990). An un-named Pole redesigned the standard container. Type 'H" consisted of 5 metal drums each with a carrying handle and linked by long metal rods including the end pieces. One end would deaden the shock while the other was used to open the parachute via a static line. Unfortunately, while the design improved usability, they were more prone to impact damage. Poorly packed explosives detonated on impact which resulted in suspicion bomb racks had not been cleared when delivering supplies (Foot, 1990).

The routes used by couriers south to neutral Turkey took between 3 to 5 weeks (Foot, 1990), therefore wireless communication became a core communication tool. Gubbins and the wireless trainers at SOE's training centre at Thame Park realised the length of message increased the likelihood of detection. While SOE set up and developed networks of agents throughout Europe and the Balkans, development of wireless technology and improvement to ciphers became invaluable to the security of cells and the transmission of information. The Abwehr penetration of the Dutch operation was a bitter blow to SOE and was a stark reminder to all Sections (and SIS) of agents being caught or turned into double agents. Pocket radios were being designed to avoid the shortcomings of the Eureka and S-Phones which not very transportable or appropriate for undercover work. While SIS developed the paraset and weighted 1.6kg, Poles working in a factory at Letchworth, produced transceivers that made other allied equipment museum pieces (Foot, 1990), but were reluctant to let any be handed over to other sections of SOE.